About Aachen
The City of Aachen and RWTH


With a population of about 260,000 inhabitants the city of Aachen is a medium-sized city of Germany. Located in the very west of Germany Aachen is right at the border to Belgium and The Netherlands. Furthermore, it is just about an hour drive to the large cities of Düsseldorf, Cologne and Brussels.

Since 3,000 BC the area of Aachen is inhabited. During the 1st century BC the Romans used the hot springs to create a spa settlement. In the 8th century King Charlemagne resided in Aachen and at that time its Palace Chapel, which today is part of the Aachen Cathedral, was built. At the point of the full completion of the cathedral it was the largest dome north of the Alps. Beginning in the 10th century Aachen was the center for the coronation of German kings for more than 600 years.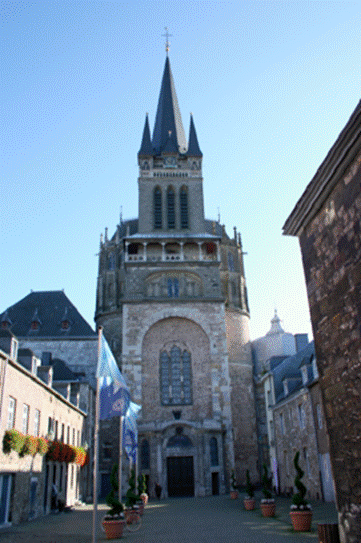 The main entrance of the Dome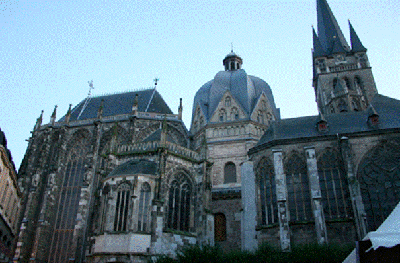 A complete view of the Dome
In the 14th century the current city hall was built which lies next to the cathedral in the city center. Starting from the Middle Ages the cloth industry became an important business for Aachen. The industrialization led to a further strong development of this industry. During the Second World War 65% of the city was destroyed. Because of its location it was the first city which was captured by the Allies. In the following periods with its open boarders of Europe Aachen due to its geographic location became an important center of Europe.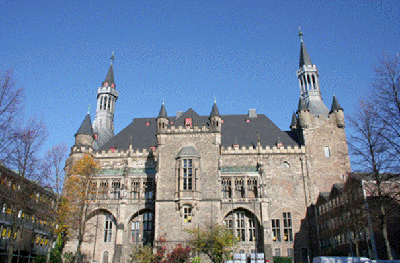 The city hall
With a temperature of 74°C Aachen has the hottest springs in Central Europe. Today a lot of buildings still represent the usage of Aachen as a spa. The Elisenbrunnen as an example is besides the cathedral and the city hall the most famous sight of Aachen. With Ponttor and Marschiertor two of the original 11 towers included in the city wall from the 13th century can be seen today. The inner city still represents the historic center and includes most of the sights of Aachen.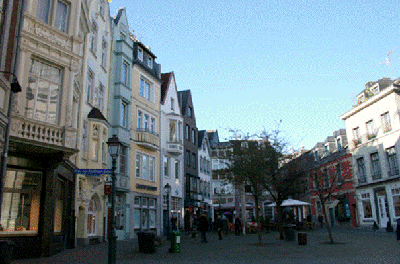 A nice corner in the city center of Aachen
Today, Aachen is an important scientific center. There are several universities and research institutions. The largest university is RWTH Aachen University which was established in 1870. With 30,000 students it belongs to the largest engineering universities in Germany. The campus is spread through a large part of the city and there are external faculties around Germany as well. The university hospital is the largest hospital building in Europe.

RWTH is a member of the IDEA League with its partners TU Delft, Imperial College London, ETH Zürich and ParisTech. The university has strong connection to industry and receives the highest amount third-party-funding in Germany. RWTH Aachen University hosts several research clusters. The E.ON Energy Research Center (E.ON ERC) is the largest public-private-partnership in Germany.


(The pictures on this page are a courtesy of Laura Cocco)